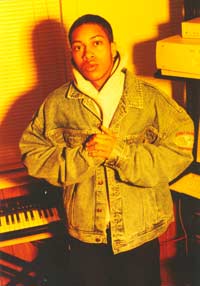 ADLiB started rapping with his cousin at a young age. Under the guidance of John Doe and Lucky Loots, ADLiB developed a presence beyond ciphers and MC battles in the streets of the DC area.
Growing up along with hip hop music, ADLiB has been influenced by a wide variety of artists and styles. He credits, among others, Slick Rick, 2pac, Mos Def, Big Punisher, and Nas, for inspiring his rhyme style. As he puts it, "I grew up listening to conscious rappers, backpackers, gangstas - whoever sounded good to me."
ADLiB's daily environment is evident in his music. Growing up in a religious household, he divided his high school years between the well-to-do white students at an affluent private school and the not so well-to-do in Suitland, Maryland. "Being on both sides of the track gave me a good grip on reality. I've seen struggle my whole life, but I know there's more to life than the hood. A lot of dudes from the hood can't say the same."
His music is evidence of a broad perspective and unique look on life. While many rappers spend time and energy trying to portray themselves as super-gangstas, ADLiB has found it easier to just be himself.
Style wise, ADLiB considers his versatility his biggest asset. A testament to his upbringing and musical influences, he is able to do any type of song with ease. ADLiB has promised to resurrect something that the cookie-cutter music business has neglected for too long: skills. "You can be the toughest, most thugged-out dude in the world, but rhyme for rhyme I'm better than you."