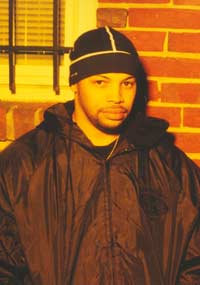 John Doe has always been the type that is laid-back and quiet. He's been through a lot and learned a lot. He has taken the tough road in life.
He was a street businessman when the streets had a code of honor. As he says "I turned to rap as a way to free my mind and rap became a hobby that turned into a business."
John Doe and Lucky Loots released their first single together called "Life is a Game".
He soon formed a group called Soldiers En Combat. The group consisted of John Doe, Lucky Loots (now the CEO of Street Soldiers), and Tree. They soon began putting together ripe lyrics and music. He was known by the group as the "primo" lyric writer.
The group eventually released an album "The Soldiers Are Comin'". Cuts on the album are: Warm It Up, Da Power Joint, Doing What I Gotta Do, Stress, Next of Kin, and a short documentary called Stolen Car with Flappy and Joey. The headliner track of the album is Warm It Up with a video depicting different parts of Washington, DC.
John Doe is now known for his producing and engineering. He continues to write lyrics from real-life experiences under his La Familia, Inc. label, a Street Soldiers subsidiary.
Last be not least as he says "John Doe is known for doing what he gotta do".