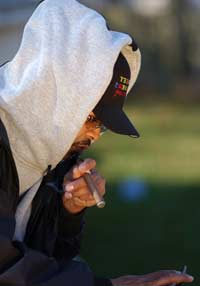 Lucky Loots is the CEO & founder of Street Soldiers Enterprises, Inc., holding company of Street Soldiers Productions, Street Soldiers Records, Street Soldiers Wear, and Street Soldiers Films. Lucky has always been able to make his visions go from thought to reality.
In 1996, with a shoestring budget he created a hip-hop video that jumped to number 1 on "THE BOX" in D.C. This video was created with no outside help. Not only did it air from Washington, DC to Watts, California on "THE BOX", but it also played nationwide on "BET'S RAP CITY".
In 1996, he released an underground ep called "The Soldiers are Comin..." which put an underground buzz through the streets of DC. Lucky saw that he had created a following and that it was time for a live show, so, again, with no budget, he created an underground hip-hop show called the "Underground Chamber". With no radio advertisement, the house was packed.
Lucky has worked with, and performed songs produced by super producer Chucky Thompson. He recorded a version of "Family Affair" with artist Non-Chalant.
In 1998, Lucky emerged from the underground and formed Street Soldiers Productions, which produces Washington DC's only teen-oriented radio soap opera called "What's The Deal -- Yo?". This radio program promotes abstinence, safe sex, and HIV/AIDS awareness on Radio One's number one urban station 93.9 WKYS FM. This program is in it's fifth season.
With deep roots in the world of hip-hop, Lucky formed a team of vicious rhyme spitters and created Street Soldiers Mercenary Millions Vol. 1 CD, which is currently hitting the streets of DC and is showing up on computers everywhere. With hip-hop mix CD's on the rise, Lucky created Street Soldiers Wartime Volume I and II, and has gone worldwide via his e-commerce brain child called www.StreetSoldiers.com.
With fashion and hip-hop going hand-in-hand, Lucky created his own line of sportswear called Streets Soldiers Sportswear, which can be purchased on the web at www.StreetSoldiers.com. Lucky has also created a soon to be released clothing line called "Soldato Couture", which will also be available on the web soon.