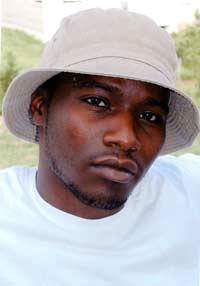 Vango Sozé aka V. Sozé was born in Washington, DC on March 8, 1980. He is the hardest to find of all the Street Soldiers unless he is recording, that is.
One of his favorite sayings is "I play the Cut". As observed by label CEO Lucky Loots, he is completely uninterested in what other rappers are doing on TV; his only concerns are his family and making beautiful music rather than developing an image.
Lucky laughs and says "He never would have shown his face if women hadn't convinced him otherwise." He continues by saying "It should be about who makes the best music. A lotta dudes lean on other things like their beats or drama, because their music doesn't measure up, Sozé doesn't have that problem; turn the beats off and play his stuff acappella, and he's still got the best product."
V. Sozé's catalog is extensive, he already has several "Best of..." mixtapes available out on the street, the trick to finding them is knowing where to go.
"Only a certain few dudes know who he really is and that select few know his stuff, because he's really telling the truth" says Lucky Loots. "Right now he's just enjoying being good at what he does without being famous. He does his thing and makes his money on the street. It's a luxury he won't have when he blows up, so he's relaxing right now." He says "Y'all dudes can run around town catching cases, he'll be on the low blowing green and writing fire."
Vango has just release his newest CD "The Greatest". You can buy "The Greatest" online in the Street Soldiers music store.